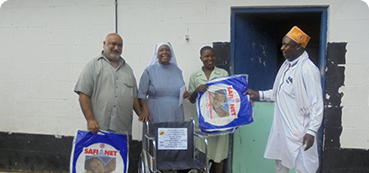 Wheel Chair No 245 And 25 Mosquito Net Handed Over To Bukumbi
Wheel chair No. 245 and 25 mosquito nets were donated to the Bukumbi Catholic Hospital in Mwanza city…
News & Updates
Sewing Machine Donated by TDCF to Muleba villagers, Kagera
Four sewing machines were today handed over by TDCF to Muleba villagers in Kagera region to open up a tailoring class in the village for ..
2018-11-05 08:23:40
TDCF runs sewing classes for adults
TDCF runs sewing classes for adults who never got chance to go to school or had to drop out because of difficulty with fees. These childr..
2018-10-31 05:48:29
Two shallow well donated to two villages in Mwanza city
Today two shallow wells were handed over at two different villages in Usagagara area in the Mwanza city. The area has severe water scarci..
2018-10-30 11:03:43
Eye care awareness campaigns, free eye camps and cataract surgeries
Celebrating the White Cane Day, The Desk and Chair Foundation handed over several items to acting Mwanza Regional Commissioner Dr Phillis..
2018-10-24 11:24:07
First Division Netball tournament in Mwanza
TDCF supports the First Division Nettball tournament in Mwanza. TDCF recognises the importance of sports.
..
2018-10-22 05:27:20
Bore well under construction in Singida
TDCF is digging a deep bore well in Singida. This should provide water to 1000s of people once complete. Will keep you all updated once..
2018-10-17 04:57:23
TDCF supports National White Cane Day, 2018
During the Tanzanian National White Cane day TDCF will take part for the full week by providing various type of assistance to to needy.
2018-10-12 10:32:43
TDCF gives interest free loan to start a small business.
TDCF gives interest free loan to MR Deonatus Sotterty to start a small painting business. He has a bright future ahead of him. TDCF wish..
2018-10-10 12:43:15
Become A Volunteer & Let's Work Together
To become a Foundation volunteer, click here and let us know something about yourself and your interests. We'd love to make your acquai..
2018-06-04 10:36:04
Water Supply to Small Sub Villages
CLEAN WATER PROJECTS: TDCF gets sponsorship from Khaki Family to get piped water to 3 sub-villages and a local mosque…
..
2018-06-04 10:34:59