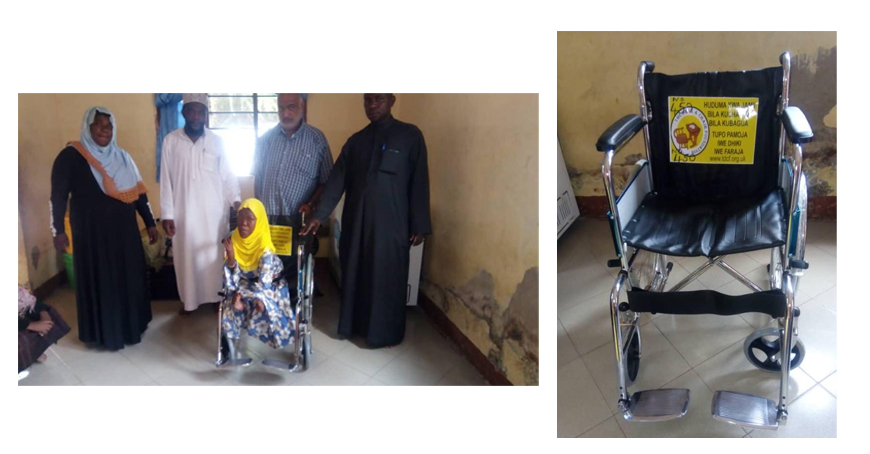 Tricycle no 450
Miss RM (17) a physically challenged since birth was handed over wheelchair no 450 today.
According to Rehema's mother, a single mother of four children, that her daughter needs full-time attention due to her complete disability, so her other two children have been adopted by relatives in Tabora and the youngest son is with her.
Since the daughter needs full-time support, she is not able to do any income generating business or project to feed the family and support the family.
Hence she is requesting any assistance from well wishers to sustain her family monthly expenses like house rent and food water bill and electricity bill ie basic needs of life
Funds like sadaqat,zakaat,and alike charity funds can be sent directly on her following number +255 68 859 8292.
This wheelchair was donated by a well wisher from the UK.
The family thanked and prayed for the wells being of the donors.
News & Updates
Shallow well no 362
Shallow no 362 was handed over at a Health Center in Kiburumo sub village in Ngerengere village in Morogoro District. This health center ..
2019-12-16 05:19:48
Shallow well no 364
Shallow well no 364 was handed over to villagers of Mgude Village In Ngerengere Ward in Morogoro Ward in Morogoro district. The well that..
2019-12-16 05:13:03
Shallow well no 439
Shallow well no 439 was handed over to Mgude Villagers in Ngerengere Ward in Morogoro District on Saturday 30/11/2019.
The funds f..
2019-12-16 05:03:01
Wheelchair no 457
Mr IML was handed over with brand new wheelchair no 457 on Friday 6/12/19. Mr I was hit on his head some four years back and was paralyze..
2019-12-16 04:53:03
800 I C H I F HEALTH INSURANCE CARDS was handed over the villagers of Nyashimo village, Busega District in new Simiyu Region
A deep water system with two tricycles, two wheelchairs and 300 plastic organizer trays and 800 I C H I F HEALTH INSURANCE CARDS was hand..
2019-12-02 06:00:09
Tricycle no 441
Tricycle no 441 was handed over Mr MR who comes from Kirumba area in Mwanza City. Munda lost his tricycle in recent floods in Mwanza and ..
2019-11-18 07:44:52
Tricycle no 443
Mr. MM. of Ilemela Area in Mwanza was today handed over tricycle No 443.
This tricycle has been generously donated by BIKEDEPOT COM..
2019-11-18 07:42:20
Tricycle no 444
Ms. GM , from Mara region, was today handed over a tricycle no 444 that will help her in moving around more comfortably in different area..
2019-11-16 06:03:34
The Desk and Chair Foundation have donated 150 fruit trees to Mwanza
The Desk and Chair Foundation have donated 150 fruit trees 🌲 to Mwanza Seketoure Referal Hospital. These will be planted by volunteers..
2019-11-16 05:58:42
Tricycle no 445
Mr JS from Rorya village in Mara Region was assisted with a tricycle no 445 to enable him move around more efficiently and comfortably.

2019-11-16 05:50:44